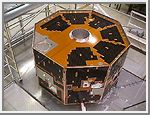 IMAGE Spacecraft
Imager for Magnetopause-to-Aurora Global Exploration
Table of Contents
IMAGE Science
Launch Date/Time: 2000-03-25 at 20:34:43 UTC
On-orbit dry mass: 536.00 kg
Nominal Power Output: 250.00 W

---
IMAGE (Imager for Magnetopause-to-Aurora Global Exploration) is a MIDEX class mission, selected by NASA in 1996, to study the global response of the Earth's magnetosphere to changes in the solar wind. IMAGE will use neutral atom, ultraviolet, and radio imaging techniques to: (a) identify the dominant mechanisms for injecting plasma into the magnetosphere on substorm and magnetic storm time scales; (b) determine the directly driven response of the magnetosphere to solar wind changes; and, (c) discover how and where magnetospheric plasmas are energized, transported, and subsequently lost duringsubstorms and magnetic storms.
In order to fulfill its science goals, IMAGE will utilize neutral atom, ultraviolet, and radio imaging techniques. A suite of three neutral atom imagers (NAI) will provide energy- and composition-resolved images at energies from 10 eV to 200 keV with a time resolution of 300 seconds. They record the glow of fast atoms coming from throughout the Earth's magnetic field. This reveals the shape and motion of the clouds of plasma that make up a magnetic storm.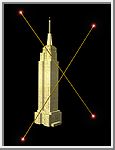 Two ultraviolet imagers, covering wavelength ranges from 120-180 nm (FUV) and 30.4 nm (EUV), provide coverage in the far and extreme ultraviolet. The Far Ultraviolet Imaging instrument will collect the first-ever images from space of the Earth's proton aurora. The aurora, commonly known as the northern and southern lights, is a ghostly light show seen most often at high latitudes of Earth. The dance of lights that is visible from the ground is caused by electrons striking and lighting up the atmosphere much like electricity lights up a television screen. The proton aurora is invisible to the naked eye and has never been viewed from space; from the ground, it is visible only in far-ultraviolet wavelengths. The Extreme Ultraviolet Imager will capture the first global images of the plasmasphere, which is the tenuous extension of the Earth's electrically charged upper atmosphere, or ionosphere. The plasmasphere extends about 12,500 miles (20,000 kilometers) into space. Images from this region will provide a sensitive indicator of the onset of magnetic storm activity.
The Radio Plasma Imager (RPI) instrument provides a three-dimensional view of the plasmasphere by sounding it with radio pulses, like an ultrasound image of the human body. The RPI transmits and receives pulses from 3 kHz to 3 MHz allowing relative motions of the satellite and plasma to be determined to a resolution of 400 meters per second and a time resolution as good as 4 seconds. To accomplish this, the RPI uses the longest antennas ever deployed in space, longer than the height of the Empire State Building.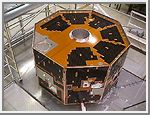 IMAGE Spacecraft in the Clean Room
This perspective view of the IMAGE observatory shows an octagonal shape spacecraft covered with arrays of dual-junction, high-efficiency gallium-arsenide solar cells. The spacecraft measures 2.25 meters (7.4 feet) in diameter and 1.52 meters (4.99 feet) in height. It weighs 494 kg (1087 pounds) (including instruments). The scientific instruments and subsystems require an orbit-averaged power of 250 Watts which power is generated by the solar cells. (Courtesy NASA)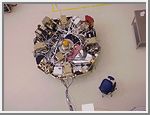 Top View Of The Completed IMAGE Instrument Deck
This view shows the instument deck of the IMAGE observatory. It is located in the middle of the spacecraft. Below the deck are four bays that contain subsystems for electrical power, communications, command & data handling, and attitude determination and control. (Courtesy NASA)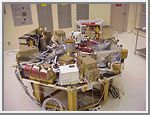 Instrument Deck Side View
This picture shows a side view of the instruments contained on the intrument deck. This includes a suite of three Neutral Atom Imaging instruments used to record the glow of fast atoms coming from throughout the Earth's magnetic field. The Far Ultraviolet Imaging instrument will collect images from space of the Earth's proton aurora. The Extreme Ultraviolet Imager is used to capture images of the plasmasphere, which is the tenuous extension of the Earth's electrically charged upper atmosphere, or ionosphere. The Radio Plasma Imager instrument provides a three-dimensional view of the plasmasphere by sounding it with radio pulses, like an ultrasound image of the human body. To accomplish this, it uses the longest antennas ever deployed in space, longer than the height of the Empire State Building. (Courtesy NASA)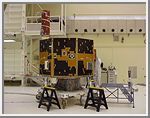 Functional Testing of the IMAGE Observatory
The IMAGE observatory in nearing completion and is undergoing functional testing in Lockheed-Martin's highbay facility. (Courtesy NASA)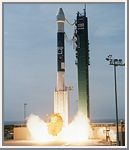 Launch of the IMAGE spacecraft
The IMAGE spacecraft was launched from the Western Range (Vandenberg AFB) on a Boeing Delta II 7326-9.5 launch vehicle. It occurred on March 25, 2000, at 12:34:43 PST. The IMAGE spacecraft was placed into an elliptical polar orbit with an apogee altitude of 7.2 Earth radii (45,922 km) and a perigee altitude of 1000 km. (Courtesy NASA)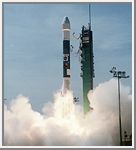 Launch of the IMAGE spacecraft
This is another view of the launch. (Courtesy NASA)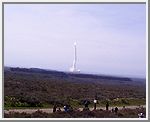 Launch From a Distance
Spectators watch from a distance as the IMAGE spacecraft lifts of from the launch pad at Vandenberg Air Force Base. (Courtesy NASA)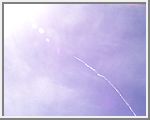 Into the Sun
The Delta II launch vehicle carrying the IMAGE spacecraft flys into the Sun. (Courtesy NASA)