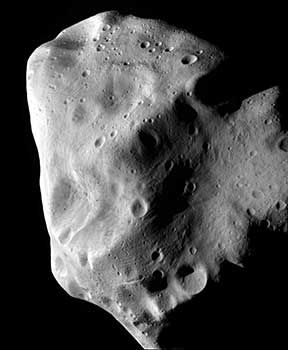 Asteroid Lutetia
Asteroid 21
On July 10, 2010 the European Space Agency's spacecraft Rosetta, on its way to a 2014 rendezvous with a comet, flew by the metallic asteroid Lutetia. The probe passed by at a minimum distance of 3160 kilometers, traveling at speeds of 15 km per second. In addition to taking several highly successful images of the rock it attempted to gather some floating dust to analyze as well.
The asteroid was first discovered in November of 1852 by Hermann M. S. Goldschmidt. It is classified an M-class asteroid meaning it is composed primarily of metal. However, little evidence exists of metal on the surface which suggests a more common C-class asteroid. Lutetia is 100 km wide and heavily cratered. It is nearly 4.5 billion years old, just as Earth is, and may be left over from the early creation of the solar system.
This is the last mission of the Rosetta before being shut down in hibernation only to wake up in 2014 with a new fascinating study of the comet, Churyumov-Gerasimenko.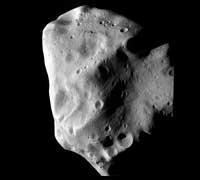 Asteroid Lutetia
Lutetia at closest approach.
(Courtesy ESA)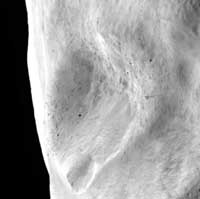 Close-up View of Asteroid Lutecia
Zoom in on a possible landslide and boulders at the highest resolution.
(Courtesy ESA)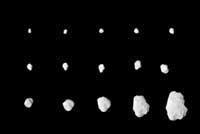 Approach Images of Asteroid Lutetia
Individual images show the approach to asteroid Lutetia by the European Space Agency's Rosetta spacecraft. The images were acquired on July 10, 2010, with the largest view taken as Rosetta came within 80,000 kilometers (50,000 miles) of the asteroid on its way to closest approach.
(Courtesy ESA)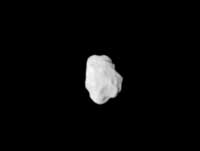 Animated Approach to Asteroid Lutetia
Animated gif comprised of images taken by the European Space Agency's Rosetta spacecraft as it neared its target, asteroid Lutetia. The images were acquired on July 10, 2010, with the largest view taken as Rosetta came to within 80,000 kilometers (50,000 miles) of the asteroid on its way to closest approach.
(Courtesy ESA)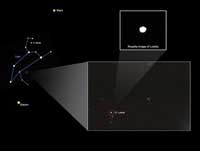 Asteroid Lutetia
The inset shows asteroid Lutetia from a distance of 2 million kilometers (1.2 million miles) acquired by the OSIRIS camera on ESA's Rosetta spacecraft on July 9, 2010. Rosetta is due to make its closest approach on July 10, at 18:10 CEST.
(Courtesy ESA)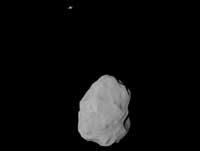 Asteroid Lutetia and Saturn
At a distance of 36,000 kilometers (22,369 miles) the OSIRIS Narrow Angle Camera (NAC) took this image catching the planet Saturn in the background.
(Courtesy ESA)