The Moon, as Seen by the Cassini Spacecraft
The high-tech camera system aboard the Saturn-bound Cassini spacecraft, snapped several pictures as it approached the Moon on its fly-by of planet Earth. The pictures were taken about 80 minutes before closest approach, on August 17, 1999, from a range of about 234,000 miles. The 80-millisecond exposure from the spacecraft's narrow-angle camera shows lunar features as small as about 2.3 kilometers (1.4 miles) across.
Cassini received a slingshot power boost from Earth's gravity field as flew more than 700 miles over the Pacific ocean. Cassini will fly past Jupiter late in 2000 and arrive at Saturn early in 2004 where it will begin a four year long mission studying the Saturian system. The following images and animations are the first images taken for scientific and scenic purposes.

Passage of the Moon from Cassini
This brief movie illustrates the passage of the Moon through the ISS wide angle camera field of view as the Cassini spacecraft flew by the Moon, on the way to its closest approach with Earth. From beginning to end of the sequence, 25 wide angle images (with a spatial image scale of ~ 23 km/pixel) were taken over the course of seven and a half minutes through a series of narrow and broadband spectral filters and polarizers, ranging from the violet to the near-infrared regions of the spectrum. (Courtesy of Cassini Imaging Team/University of Arizona/JPL/NASA)



Three Frame Movie of the Moon
This brief 3-frame movie was made from 3 narrow angle ISS images. From left to right, they show the Moon in the green, blue and ultraviolet regions of the spectrum in 40 msec, 60 msec, and 80 msec exposures, respectively. All three images have been scaled so that the brightness of Crisium basin, the dark circular region in the upper right, is the same in each image. The spatial scale in the blue and ultraviolet images is 2.3 km/pixel. The original scale in the green image was 4.6 km/pixels. It has been enlarged for display to the same scale as the other two. (Courtesy of Cassini Imaging Team/University of Arizona/JPL/NASA)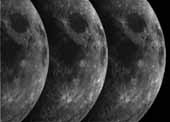 Composite Image of the Moon From Cassini
This composite image was made from 3 narrow angle ISS images which captured a significant portion of the Moon during the Moon flyby imaging sequence and which comprise the narrow angle movie above. From left to right, they show the Moon in the green, blue and ultraviolet regions of the spectrum. The spatial scale in the blue and ultraviolet images was 2.3 km/pixel. The original scale in the green image was 4.6 km/pixels. (Courtesy of Cassini Imaging Team/University of Arizona/JPL/NASA)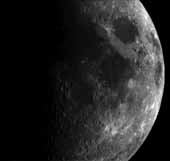 Best Image of the Moon From Cassini
This narrow angle ISS image is one of the best of a sequence of narrow angle frames taken of the Moon. The 80 msec exposure (which is one of the frames in the narrow angle movie above) was taken through a spectral filter centered at 0.33 microns; the filter bandpass was 85 angstroms wide. The spatial scale of the image is ~ 2.3 km/pixel. (Courtesy of Cassini Imaging Team/University of Arizona/JPL/NASA)